Over the last few months so much has happened.
The death of HM The Queen, although we knew it would happen at some time, in the not too distant future, still seemed to shock us all.
How wonderful that she was able to celebrate her Platinum Jubilee in all its glory.
The Regions of the BRA had all gone to great lengths to make this Jubilee a special one and we can now look back and see that we were a part in making this final celebration of our Queen a special one for our Members.
Our thoughts are now with HM King Charles III to carry on the work his beloved Mother, our beloved Queen, started 70 years ago.
The funeral of HM The Queen is something I will never forget. It made me very proud to be British. The precision, the serenity and watching our armed forces and those of the Commonwealth working together on this memorable occasion was wonderful.
God bless the Royal Family who, despite having to grieve in front of the whole world, kept their dignity and were a great credit to HM The Queen and the way she had lived her life. I do not think we will ever see such a spectacular event again in our lifetime.
I was honoured to feel a part of it..
A Poppy, in tribute to all the brave veterans
Who risked their lives
In past and present,
So we might have a future.
On Friday the 11th November, on behalf of the Members of the British Residents' Association, I shall be laying a wreath at the Commonwealth War Graves Commission Cemetery at St. Martin's Church, Vevey.
The days are getting shorter and in two months Christmas will be upon us.
Once again at the beginning of December, we will be sending you all separately, by email or mail, your subscription invoice for next year.
Angela S. Meier-Jones
BRA Chairwoman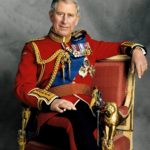 HM King Charles III
The Council and Members of the British Residents' Association wish our new King,
God speed, good health and a long reign.