Jane Owen replaced David Moran in the post of Her Majesty's Ambassador to the Swiss Confederation and non-resident Ambassador to Liechtenstein in late December 2017.
On 12 January, I was fortunate to be given a meeting with her to introduce the BRA and to request that she took on the rôle of BRA Patron. She readily accepted the task and expressed a willingness to get to know UK residents in Switzerland and Liechtenstein. We had a good discussion on matters of concern to our members and how the BRA and the Embassy can work together to meet these concerns.
After the meeting the following appeared on Ms Owen's Twitter feed (@JaneOwenFCO . Jan 12).
"Delighted to meet Graham Robertson, Chairman of the British Residents' Association of Switzerland this morning. It's an honour to be their patron and look forward to working together to support our large and influential community across the country."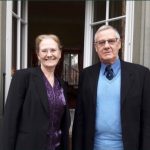 Graham Robertson
National Chairman, BRA